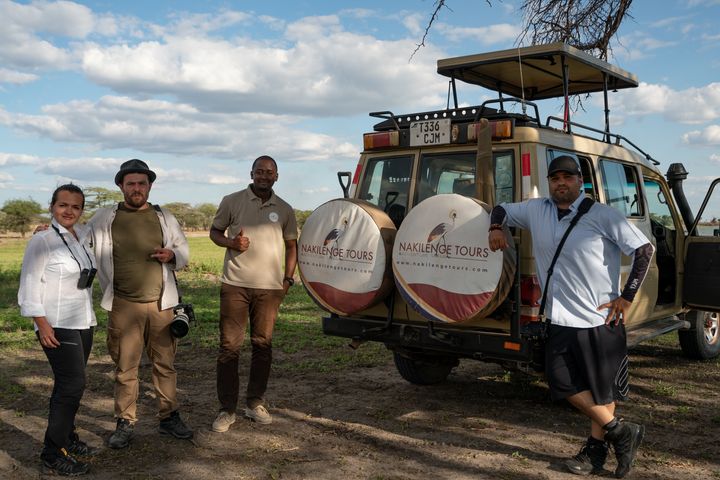 Nakilenge tours & adventure safaris is a tour operating company with years of experience in a travel industry, legally incorporated in Tanzania based in Arusha northern part of Tanzania. We offer wildlife safaris, Camping safaris, Mountain climbing, Cultural & Historical tours, airport transfers, Hotel reservation and Zanzibar & Beach Holidays.
We seek to showcase the natural beauty of Tanzania through our endeavours. We provide expert knowledge, exciting itineraries and outstanding service. Our professional and dedicated team is not only extensively experienced in organizing trips but also works with a true passion for tourism. We are dedicated to providing quality service and work with high integrity to ensure that you have a memorable experience which will allow you to witness the best of our country and experience its unique culture.
Why Choose us?
We are full insured and lincenced
Our clients experience is our first priority
Expert Guides / Professional Guides
Guarantee you the experience of a lifetime
Innovative Adventure
Our Safari Reviews
Meru Waterfalls School trip It was such a nice tour with Nakilenge tours. The school trip with Arusha Sciences students to Meru waterfalls was full of laughters in the nice buses and good music. We appreciate Nakilenge's staff support during hill climbing with students and friendliness.

Trip to Kikuletwa, Rundugai, Chemka village The car was so nice, the speed was good and the driver very smart. I will recommend you for the rest of my trips. Regards, Makundi Senzota

Good economical tours around Arusha I had time to kill in Arusha before my safari so Yussuf arranged some economical walking tours to Lake Duluti and Themi Falls based on my interests with nature. I also did a tour to Moivarro coffee plantation on the day after and based on my preferences, Yussuf incorporated a sugar cane tour and sampling into my coffee tour. He also satisfied my penchant for local food and took me to excellent local restaurants for my meals between tours. I really enjoyed my short stay in Arusha by doing these economical tours and having Yussuf as my guide. After my safari, he helped me arrange a hiking trek with another outfit in Usambara and helped arrange transport to and from Arusha.

Great tour in Selous game reserve Had a totally brilliant time spotting and photographing wildlife of all sorts on Selous game reserve. The tour company was great and very helpful and knowledgable and I would highly recommend them. The accommodation that they organised was far cleaner and neater than anyone could expect out in the Bush and was absolutely top notch and had a great atmosphere and a sense of authenticity and wilderness about it. It was a pleasant surprise to say the least. One of the best trips ever.
Prison Island & Spice Tour A través del hotel en el nos alojábamos nos pusieron en contacto con esta agencia. A la hora prevista se presentó Muhamed, educado, impecablemente vestido con una camisa de diseño africano. Nos dirigimos a Prison Island y disfrutamos de una excursión deliciosa en una embarcación local viendo tortugas gigantes y el edificio que, en su día, fuera prision. Las explicaciones fueron amenas y el guía fue muy simpático. Tanto es así, que al día siguiente, realizamos lo que se conoce como el tour de las especias, en el que visitamos una explotación donde pudimos ver las diferentes plantas de donde proceden, degustamos frutas tropicales y pudimos observar como un especialista trepaba a lo alto de un cocotero. Al regreso a Stone Town visitamos las ruinas de unos antiguos baños persas y de dos Palacios: Mitoni y Maruhubi. Una visita muy completa en la que nos sentimos muy buen cuidados.

Best Tour Ever We did a very nice two day safari from moshi to lake manyana and ngororo. It was amazing and unforgettable. We saw many animals and had a lot of fun. The car and driver was very good and safe. The food from the personal cook was veeeery delicous and the guide made all our whishes come true.

Best Tour Guide! If you are looking for a tour guide that knows what they are doing and the city! This is the person to pick! Makes you feel comfortable and very helpful! I would recommend 100%!

Stone Town and spictour tangawizi Perfect friendly guide...Very interesting and funny tour..Zanzibar is a beautyful island..very nice!

Our Team
Our team of talented, passionate, professionals, experienced is dedicated to providing you a lifetime experience. Our guides are very fluent in speaking Arabic, Chinese, France, English, Germany, Korean, Portuguese, Spain and Swahili.
Also, our team is well-trained and organized to provide and maintain the highest standards of service to our clients. They are always eager to meet client's expectation. Yusuph
Co founder and Proffessional Safari Expert